When human rights abuses occur around the globe, it is sometimes the case that human rights activists and reporters cannot investigate what is going on because the situation is too dangerous or they are barred from entering the location. Geospatial technology, such as satellite imagery, effectively addresses this issue, and it has been used by human rights activists to reveal human rights abuses occurring on the ground. Such imagery has even been used as evidence in international courts. This technology has been pivotal in illuminating to the world atrocities occurring on the ground.
While geospatial technology has significantly advanced human rights abuse monitoring and documentation, there is still much to be done. SATCOHR believes that students can contribute to making the application of geospatial technology to human rights more effective and efficient. We address this through our technology, justice, ethics, and advocacy teams.
In taking a multi-faceted approach to the problem, we help address the need for improvement in the technological, legal, ethical, and awareness-raising aspects of it. We realize, though, that students cannot do this alone. We have already been in communication with NGOs, academic institutions, and multinational corporations to work with us in moving forward. SATCOHR strongly believes that a cross-institutional, cross-disciplinary approach is the best way to make progress and create positive change. With students, NGOs, corporations, and academic institutions pooling their skills, enthusiasm, and resources together, SATCOHR can help revolutionize the way we monitor and document human rights abuses.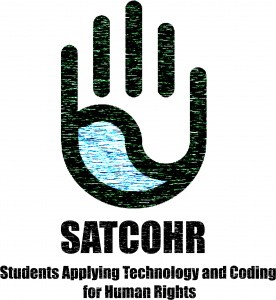 This website consists of information about our organization, a blog about various topics related to technology and human rights, an interactive human rights map constructed from geospatial human rights case studies conducted by the American Association for the Advancement of Science, relevant articles, and useful resources concerning human rights and technology. We welcome all communication, and we would be glad to hear your ideas and suggestions. Feel free to contact us at satcohr.initiative@gmail.com